Spray Painting in Pinetta, FL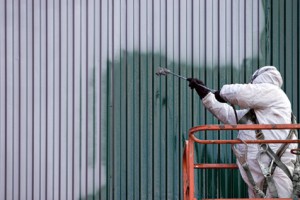 Here at JB & Sons Painting we offer two options. The first is the brush style of painting, which requires more labor and can be more expensive. The other option is spray paint. Spray application is a tough paint job to beat because the absolute flawless finish of sprayed-on paint creates uniform coverage every time. The outcome of using spray paint is solid and flat with clean sharp lines which creates a modern look for your Pinetta home. This technique looks the best with a bright bold color.
How it Works
This technique does however take a lot of time preparing, but once we get started it is much faster than brush. A tip to remember if you try this at home is that you must make sure that the rest of your home(what you are not painting) is covered, making sure that the only area that gets painted is what you want to be painted. Cleanup can be extensive as well, making this technique not really worth it when you are painting something smaller (i.e. a small wall). Here at JB & Sons Painting we use an airless spray gun for the most coverage and best results.
Give JB & Sons Painting a call today if you would like to try the Spray Painting option. This can be a nice modern way to change to the look and feel of the interior or exterior of your home. Our painting experts would love to answer your questions and get you a free quote
Recent Articles
If you are looking for Spray Painting services by a painting contractor in North Florida and South Georgia GA, then please call 850-929-9925 (FL) or 229-244-6767 (GA) or complete our online request form.