Pinetta Painting Contractor & House Painter Specialist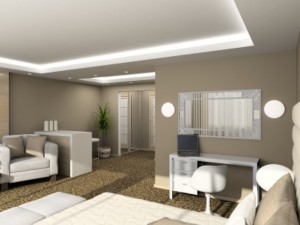 Faux finish painting, also known as wall design or decorative painting, consists of a broad range of options. Our JB & Sons Painting Faux finishes can be used in just about any room, but many homeowners start out by completing an accent wall, a powder room, or a bathroom for that extra "Wow!" factor for home improvement and remodeling projects.
At JB & Sons Painting our Pinetta Faux Finish Painting contractors have been professionally trained and continue training in faux painting techniques such as Tuscan, Venetian Plaster, wood grain (a very unique finish when applied with bold colors and metallics vs. the normal brown tones that mimic wood) and many other styles. Venetian Plaster is a popular option clients use to add a touch of opulent luxury to their spaces.
Pinetta Interior Painting
If you are searching for Pinetta Interior Painters that understand your vision for your home and offer long-lasting and affordable solutions to help you reach your goals as well as your budget, look no further than JB & Sons Painting. We are the Pinetta interior painters that you can trust to do what we will say we will 100% of the time. From complete house painting to interior painting touch-ups, JB & Sons Painting will be there from the initial consultation to long after the paint has dried from your Pinetta house painting project.
So whether you're looking to have a room painted, a faux finish on that new entertainment system or a complete interior painting job. You can rely on JB & Sons Painting for Pinetta Interior Painting services!
Pinetta Exterior Painting
Your Pinetta home reflects a lot more about you than you think. From the tasteful decor of your home's interior to the enchanting and unique appearance of your home's exterior, each and every part of your house makes a statement about your individual style. If you want to make an impressive statement, your home must have a professional paint job.
At JB & Sons Painting our Pinetta Exterior Painting contractors pay close attention to detail and receive on-going training to ensure your interior and exterior painting needs are met with brilliant results! Our Pinetta house painting contractors adhere to the highest standards of craftsmanship, so you can be assured that our services and materials will withstand the test of time.
Pinetta Deck Restoration
JB & Sons Painting provides the Pinetta area with high quality Deck Restoration Services to bring your deck and exterior wood surfaces back to life. If you want your outdoor spaces to be summer-ready, then contact the Pinetta Deck Restoration specialists at JB & Sons Painting today for a Exterior Painting, Pressure Washing, and Deck Restoration services. We offer the most affordable and reliable deck staining solutions in the Pinetta area, so you can get the pristine and natural look you want without spending a fortune. Call today for a free estimate!
Recent Articles
If you are looking for a painting contractor in Pinetta FL then please call 850-929-9925 (FL) or 229-244-6767 (GA) or complete our online request form.