Cabinet Painting – A Great Way to Repurpose Your Cabinets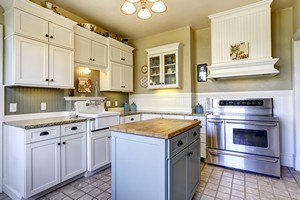 There is nothing quite as exciting as taking on a kitchen remodeling job for your Pinetta home. Even for those families who are not exactly master chefs, just being able to get a new look and feel in this area of your home is rewarding. Yet, you have to know what it takes to be able to stretch your dollar, as far as possible.
If you are not careful, it is easy to run through your kitchen budget, rather quickly. The choices that you make should be good ones, and you should have the help of your remodeling contractor for this phase of the task, as well. That's why our team here at JB & Sons like to help by offering advice that can help, such as using cabinet painting to help make the most of your kitchen painting and renovating project.
Why Painting Your Cabinets Can Do So Much
Did you know that new kitchen cabinets can eat up as much as 40% of your kitchen remodeling budget? That's almost half, and for something you already have in place. So if you have cabinets that are in good shape but could use some updating, why not consider simply having them painted?
In fact, you don't even have to be remodeling your entire kitchen, you may just want to renovate your cabinets and here is why painting can make such a huge difference:
This is the ideal way to save a lot of money. Getting your cabinets professionally repainted is a great way to spend only a fraction of the cost of replacing them, and save a lot of money on your remodeling budget. In other words, cabinet refinishing is a financially savvy approach to working with your renovating service budget.
Many people prefer getting their cabinets painted because it is less intrusive than replacing them. In fact, you can still use your kitchen while your cabinets are being painted. That makes it the very popular alternative to replacement in situations where all you want changed is the appearance of the cabinetry.
This cuts down the time of your remodeling project a lot. Since ordering new custom cabinets takes time, as does replacing the old ones and installing the new ones, it makes for a great deal of wasted time. Just as with your kitchen renovating budget, you can save a lot of time as well, if you opt for cabinet repainting.
This is a much more environmentally responsible approach to take. Repurposing the cabinetry that you already have in place is a much more Eco-friendly method to use. This means less landfill space wasted for otherwise perfectly good materials. It also results in zero materials wasted to make new cabinets when the old ones would suffice.
Cabinet painting is also the ideal way to finally get the totally custom look that you want. Your custom cabinets are about to get a face lift and become truly personalized to your liking. You get to keep the same style you love, but now you will have the perfect color to match your new kitchen and create the ideal look.
Call on the Right Pros
By contacting our team of experts here at JB & Sons Painting, Inc, you can feel good about the results that you are going to get. With over 25 years of expertise in the painting industry, we know what it takes to provide service excellence for our clients. We take this line of work seriously and that is clear from the customer satisfaction rating we have.
Our goal is to offer the best in workmanship, customer care and reasonable pricing for every one of our clients. We want you to be able to get the best final results and be beyond happy with your newly painted cabinets. Make it a point to get in touch with us now so that we can start helping you get the final results that you have always wanted.
If you are looking for a Painter in the Pinetta area, please contact us by filling out our online request form.