Lee Painting Contractor & House Painter Specialist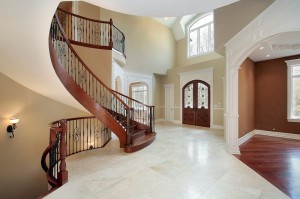 JB & Sons Painting values the importance of a home's moulding and trim. We understand that the trim and moulding of an Florida home make each room "pop" with style. Trim, baseboards and moulding, when installed and painted correctly, enhance the beauty of each room in a delicate, understated manner. A room is not complete until it has the perfect enhancements such as the finishing touches of trim and crown moulding.
Whether you are looking to spruce up the rooms in your home or you are in the process of a complete remodel, JB & Sons Painting has the Lee Moulding Installation services you need to turn each room into something spectacular! Our Lee moulding and trim specialists will help you coordinate the trim and crown molding of each room to compliment the existing décor of your home. From the traditional to the custom, JB & Sons Painting can meet your trim and moulding needs in the Lee area.
Lee Interior Painting
When thinking about making the decision to paint the interior of your home, many people start to think about doing the job themselves. Unless you are an experienced painter, you should hire an interior painting service. At JB & Sons Painting, we can do it all; we can either paint one room or your entire house. To make sure the job is done right, you should hire a professional. Don't think you can afford a Lee Interior Painter? Our services are more affordable than you think – anyone can afford to hire a professional painting company. We offer free quotes and will save you cash and time. JB & Sons Painting will take care of the hard work for you.
Lee Exterior Painting
At JB & Sons Painting our Lee Exterior Painting knows what it takes to create a custom exterior painting project that will beautify your home or office and transform your vision into a reality – and we do it on time and budget. While you might feel that exterior painting is a personal choice, there's a good deal of sense to the painting restrictions that some Lee homeowners face. A garish purple house with Halloween orange shutters on the block can effectively make it almost impossible for anyone else in the neighborhood to get full value for their home if they choose to sell. A cohesive house painting color scheme that's carried on from property to property adds enormously to the appeal of a neighborhood.
Lee Deck Restoration
When it comes to gearing up for another fun-filled summer season, we tend to focus on our wardrobes and bodies. But how many of us can really say that our decks are ready for a Florida summer that's jam-packed with barbeques, cook-outs and impromptu outdoor parties? With so much outdoor entertainment in your social schedule, it's time to give your Lee Deck the treatment it deserves. Our Lee Deck Restoration service is the ultimate answer to giving your outdoor spaces a pristine and bbq-ready appearance. No matter what the surface of your deck, a quality deck stain and professional pressure washing can bring out the wonderful natural tones of your surface.
Recent Articles
We service the following zipcodes in Lee, FL
32041, 32059, 32097, 33849, 33973, 33974, 33976, 34142, 34143, 34748, 34749, 34788, 34789
If you are looking for a painting contractor in Lee FL then please call 850-929-9925 (FL) or 229-244-6767 (GA) or complete our online request form.